Giving
Action Evangelism has been reaching out to villages, cities and nations since 1972. In the late 70's and early 80's extensive work in the Philipplines resulted in large crusades, nationwide television ministry and establishing churches. In 1985 God led Jerry Brandt to begin outreaches on the streets of San Francisco through his nightly television ministry in Northern California's channel 40. He began his "Schools of Evangelism" equipping churches in kingdom witnessing and training in "signs and wonders" evangelism resulting in many salvations, healings and deliverances on the streets of San Francisco. In 2006 God prophetically spoke over Jerry's international ministry and AE began launching MAT (Ministry Action Teams), opening Kingdom Life University missions campuses and starting remote village evangelism and church planting. AE's passion is to take the gospel to villages that have never heard the gospel. This vision has continued to grow and AE now has over 60 national directors in over 19 nations overseeing village evangelism and KLU campuses. Action Evangelism follows the biblical prinrciples of totoal integrity and responsiblity in using mission dollars effectively. AE wins souls at the astonishing cost of 10 cents each. It's because AE mobilizes Nationals who effectively go to remote villages and hold outdoor evangelism multi-media presentations. This form of oral evangelism circumvents the issue of many nationals not being able to read or writie.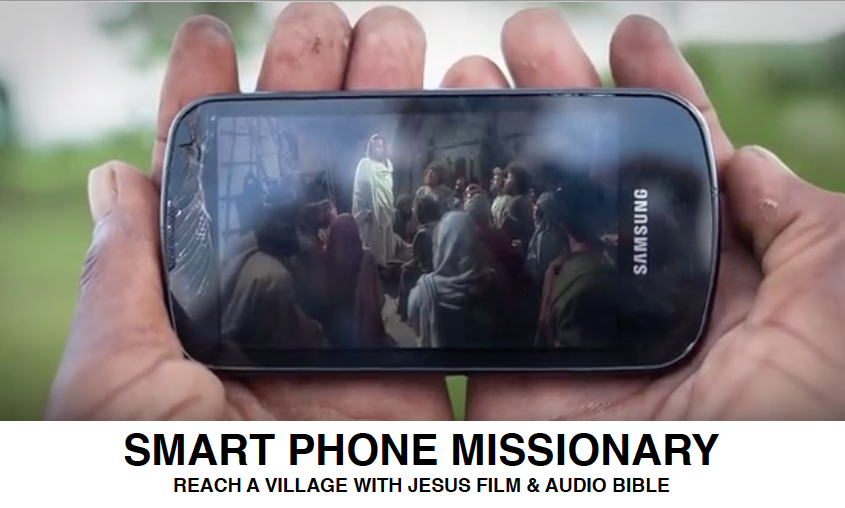 Smart Phone Missionary Poster | Smart Phone Missionary Instructions
Collect used cell phones & tablets with your church, family and friends.
Each "Smart Phone" is a video player in an unreached village.
The "Jesus Film" and Bible have been translated into over 1,000 languages.

Ready to download in their "heart" language.

Your used Smart Phone" becomes a missionary to an ureached village!

WATCH 2 MIN. VIDEO TO SEE HOW IT WORKS!

Help with the cost of solar panels & shipping.

Remote villages do not have electricty.
_________________________________________________________________

WORLD EVANGELISM

MONTHLY SUPPORT

$20.00 MONTHLY

$50.00 MONTHLY

$100.00 MONTHLY

$1,000.00 MONTHLY OTHER

Go to "DONATE" button below & hit
"Make this reoccuring"

MY ONE TIME or MONTHLY GIFT
FOR WORLD EVANGELISM
---

Mail Checks To:
Action Evangelism
12610 Race Track Rd
Tampa, FL 33626