Become A Missions Campus International
"Training and Equipping Christians for Life and Ministry"
MISSION:
Train and equip for Remote Village Evangelism & Church Planting
1. Character: Integrity, Accountability & Responsibility
2. Relational: Belongingness, Significance & Competence
3. Kingdom: Love, Servanthood & Authority
MEET KLU INTERNATIONAL DIRECTORS

KLU Directors are dedicated and committed to reaching their nations with the good news of the Gospel of Jesus Christ. By establishing mission campus, using KLU materials, these National Directors are training and equipping Christians to reach their nation for Christ.
KLU's International mission program is part of Action Evangelism's plan to reach those who have never heard the Gospel globally. In Matthew 9:38 Jesus said, "Therefore pray the Lord of the harvest to send out laborers into His harvest" We believe Nationals are the key to reaching those who have never heard the Gospel in the remote villages of Asia & Africa. Nationals are better suited to reach their nation because they know the language and dialects, understand the culture, know where the remote villages are located, can go where foreigners can't go and have a special passion for their nation.
KLU was founded by President Jerry Brandt who has nearly 50 years of experience in mobilizing churches in evangelism, held large crusades, broadcast radio and TV, lead worship, authored books and ministered to the homeless. President Brandt earned his BA in Bible and Speech at Bob Jones University and his MA in Administration in Biblical Education at Denver Baptist Seminary and College (BBCS). He was national field representative for BBCS and started in evangelism working with Dr. Jack Van Impe as an associate evangelist. He was a professor with Christian Life School of Theology and has travelled worldwide. The Worldwide Evangelism Association was founded by Evangelist Jerry Brandt for evangelistic hearted Christians to connect.
ACCREDITATION

:

Member
of Transworld Accrediting Commission International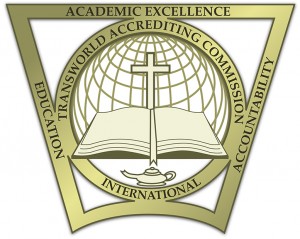 MISSIONS CAMPUS APPLICATION:

MISSION DIRECTORS INTERNATIONAL FORMS
Missions Annual Report (Jan. 31 following year)